Tamper-resistant mounting

The AXIS 216FD offers a discreet, compact and cost-efficient solution with effective protection against tampering. The dome glass is fixed from the inside and the casing is secured to the wall or ceiling using tamper-proof mounting screws.


High-performance camera
Thanks to its high-quality progressive scan sensor and advanced image processing, the AXIS 216FD delivers crisp and clear images - even in low-light conditions.
The built-in two-way audio capabilities and audio detection alarm allow for real-time communication with visitors or intruders. This small and discreet camera is ideal for monitoring stores, schools, banks and other office buildings.
Power over Ethernet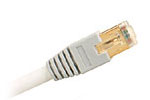 Support for Power over Ethernet allows the camera to receive both data and power over a single Ethernet cable - which makes the installation easier and cheaper. If connected to a central Uninterruptible Power Supply (UPS), the camera can continue to operate even when there is a power failure.
Features
Superior image quality with progressive scan

30 frames per second in VGA resolution (640x480 pixels)

Multi-window motion detection with alarm image buffering

Network security using multi-level password protection, IP address filtering and HTTPS encryption

Powerful Application Programming Interface (API) for software integration, including AXIS VAPIX and AXIS Media Control SDK. Flash memory for upload of embedded applications
For the complete specifications, please refer to the datasheet.