Perfect for indoor video surveillance
The AXIS 212 PTZ is perfect for indoor surveillance of premises up to 150 m2/1600ft2, such as shops, reception areas, banks, server rooms and other places where you need to see the whole area and have the possibility to zoom in for detailed inspection and monitoring.
Power over Ethernet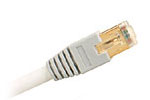 Support for Power over Ethernet allows the camera to receive both data and power over a single Ethernet cable - which makes the installation easier and cheaper. If connected to a central Uninterruptible Power Supply (UPS), the camera can continue to operate even when there is a power failure.
Features

Built-in power over Ethernet

Two-way Audio

Simultaneous Motion JPEG and MPEG-4

Tamper-resistant design

Powerful API

Comprehensive set of network security features

Video motion detection

Audio detection

Inputs/output for connecting additional devices such as external relays and sensors to activate light or open/close doors.

Pre- and post-alarm image buffer, securing images just before and after an alarm.

Additional Features for Axis 212

For the complete specifications, please refer to the datasheet.